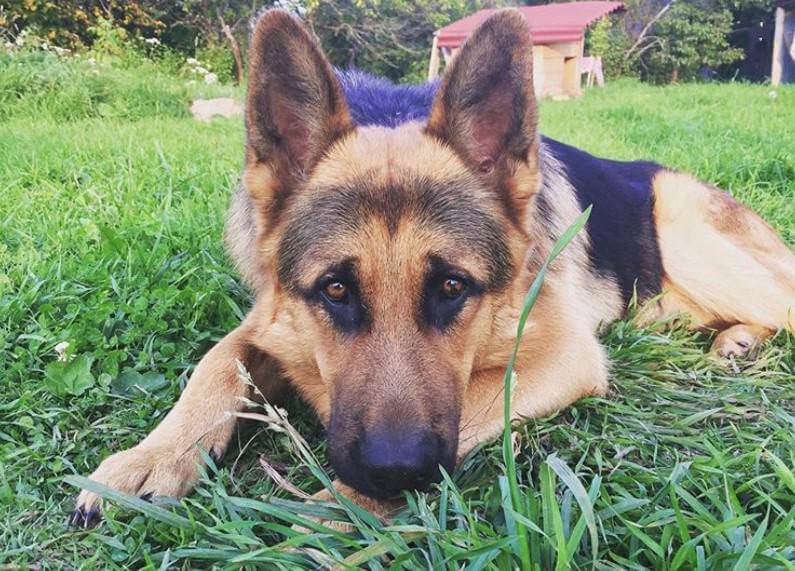 Move over Rover, pet owners in the United States have broadened their choices for a favorite male dog name, and Rover no longer tops the list. So who is the pick of the pack now? Who's the head hound? There are no set rules for naming your dog, but we'll look at the names that are fast becoming the favorites, and learn a little about them. So, find your favorite fire hydrant or tree and let's start panting.
Max – This is the number one male dog name across the country. Dogs with this name are usually fun-loving, trustworthy, happy dogs that enjoy a lot of attention and are very independent. They also like to be groomed, as well as, petted and loved. This name is Latin and means, A Salmon Basin or Large spring. The related names to Max include: Maximillian and Maxwell.
Jake- Coming in second, dogs with this name love to play. So, grab a tennis ball and head out to the back yard for a game of fetch. These dogs are also happy and fun-loving animals that enjoy sleeping and lounging around, taking advantage of a good afternoon nap. Jake is a Latin name and means, Supplanter; to fill the place of another.
Buddy- This name is given to mostly mixed breed male dogs that are strays, or have been rescued off the streets or from a bad situation. The owners of dogs with this name are usually males and make great companions for one another. Buddy is an American English name and means, Messenger man.
Bailey- Meaning, Trusted guardian, dogs with this name is usually loyal and good-natured. They can be very smart and they respond well to obedience training. They are also eager to please and enjoy spending time with their owners. This name is English and other related names include, Baillie.
Sam- Ranking fifth in the top ten, dogs with this name are mostly carefree and loyal. They have also been known as very kind animals with a great outlook on life. These are very enjoyable dogs anyone would love to own and spend a great deal of time with. Sam is a Hebrew name which means, Heard by God. Relations to this name include: Samuel, Samson, and Sambo.
Rocky- This is a great name for any size dog, rather they be short, fat, big or small. This name is usually given to male dogs that are dominating and have big, strong personalities. Pets with this name have also been known to be very playful. Rocky is of English origin and means, A Rocky Reef.
Buster- If your new puppy seems to have a big personality; this could be the perfect name. These dogs can be very sneaky and their owners sometimes dress them up in bandanas. This is a very popular name for small dogs. The name is of American English and means, Joy.
Casey- If you are searching for the perfect name for a guard dog, this is it. Dogs with the name are usually very smart and have excellent hearing. They tend to be very brave and protect their owners well. The name is of a french origin and means, Belonging to case and Brave and Watchful.
Cody- This name is great for mild-mannered male dogs. They are usually easy to please and enjoy a lot of attention and love. This name is also given to male dogs that are gentle and loyal. The name is of English origin and means, Reassuring.
Duke- Last on our list, but certainly not the least, male dogs with this name love keeping their owners within their sight. They are dominating, but also loving and loyal. Dogs with this name usually very strong and respond well with obedience training. The name Duke is Latin and means, Leader of the Herd; High Ranking Nobleman.
If you still haven't decided on a name for the new member of your family, here are a few tips on finding the right name.
1. Wait a few days after getting the puppy. Watch them and look for certain details in their personality or appearance.
2. Try not to choose a name that has more than one or two syllables. This makes it easier for them to learn and recognize their names.
3. Try to avoid choosing a name that might sound like a command. You don't want to confuse your new puppy by giving them a name that sounds like, "No," or Fetch.
4. If you have small children, try to choose a name that would be easy for them to say. You could even ask your children to help pick a name for the new pet.
Brutus
Raymond
Bruno

Cody
Omar
Frodo
Percy
Kong
Snoopy
Shadow
Petey
Blaze
Buck
Rex
Chico
Champ
Boomer
Kurt
Zeke

Cain (Caine)
Marlon
Vulcan
Marley
Trojan
Ryder
Debo
Ranger
Nacho
Chevy
Hercules
Roosevelt
Diesel
Aslan
Hamlet
Maddox
Rocco
Freddie
Dandy
Oakley
Khan
Rudy
Bronson
Bolt
Arnold
Killer
Tiberius
Kodiak
Nick
Sherlock
Carlito
Casper
Nautilus
Ajax
Preston
Argos
Axel
Dexter
Scottie
Boris
Tank
Sylvester
Enzo
Atlas
Lancelot
Zorro
Flynn
Obi
Riggs

Chip
Bud
Lex
Triton
Dozer
Gibson
Crash
Bugsy
Finn
Rags
Sam
Judge
Earl
Marshall
Trapper
Blitz
Kobe
Prince
Denver
Casey
Samson
Eric
North
Gunner
Hector
Huck
Garry
Scrapper
Kai
Brock
Chavez
Harry
Frankie
Ozzy (Ozzie)
Timber
Nixon
Jake
Tyson

Ares
Mack (Mac)
Porkchop
Sable
Stan
Archer
Maximus
Danger
Smokey
Ice
Fabian
Buzz
Chester
Dre
Ram
Dane
Hank
Taz
Max
Zack
Mars
Oliver
Justice
Ronnie
Wilson
Midas
Clint
Sarge
Bart
Wrigley

Karl
Rebel
Stone
Yukon
Tracker
Bronx
Rambo
Chaz
Linus
Loki
Captain
Brody
Joker
Steve
Gus
Robin

Jasper
Buddy
Kent
Brett
Flash
Odin
Spike
Elvis
Churchill
Chance
Porter
Benny
Alfie
Rico
Midnight
Admiral
William
Eddie
Ghost
Jet
Thor
Ernie
Hooch
Ace
Parker
Vlad
Lucky

Cash
Hogan
Reagan
Mario
Bruiser
Bones
Bane
Kenny
Owen
Scout
Zane
Boone
Neo
Knox
Chewy
Dagger
Brick
Bandit
Cerberus
Hyde
Louie
Hades
Damien
Winston
Vinnie

Archie
Jagger
Clark
Jack
Han
Ripley
Kingston
Pablo
Leo
Trooper
Raven
Sherman
Bailey
Hudson
Joey
Lincoln
Dash
King
Presley
K-9
Wario

Galaxy
Diego
Charlie
Sergeant
Elon
Remy
Harley
Homer
Boss
Gabe
Zeus
Lennox
Drogo
Edgar
Bully
Digger
Evan
Shepherd
Mateo
Romeo
Ozzie
Pluto
Pyro
Wilder
Vandal
Tucker
Paddy
Kit
Apollo
Caesar

Fang
Micky
Pacino
Muppet
Dave
Orville
Jupiter
Hawkeye
Murphy
Hulk
Baxter
Chase
Luke
Ninja
Theo
Troy

Trumpet
Nelson
Legend
Hunter
Paco
Bullet
Luca
Darth Vader
Holt
Tacco
Onyx
Gerry
Escobar
Tarzan
Austin
Duke
Sammy
Nathan
Bugs
Chopper
Apache
Maverick
Acorn
Frank
Cooper
Jeckyll
Gill

Bruce
Dylan
Osiris
Ceasar
Teddy
Ziggy
Chief
Barky
Bernard
Dickens
Rusty
Alex

Morris
Arnie
Butch
Czar
Bill
Avalanche
Hale
Rogue
Ronin
Ethan
Buster
Napoleon
Goliath
Soldier
Nemo
Jax
Toby
Blake
Azlan
Danny
Falcon
Ben
Tito
Oscar
Remington
Benji
Bear
Gonzo
Courage
Andre

Jackson
Riley
Highlander
Bentley
Otis
Rocky
Errol
Brady
Copper
Henry
George
Nyx
Gizmo